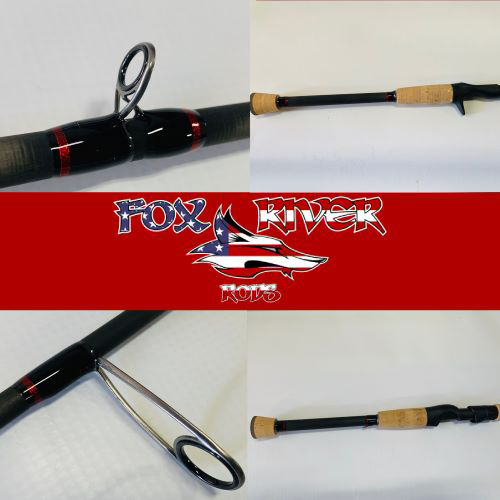 FOX RIVER RODS brought to you in collaboration with NORTH FORK COMPOSITES AND GARY LOOMIS, alongside the BEST CRAFTSMEN, GUIDES, and PROFESSIONALS in today's fishing industry.
THE FORMULA TO OUR VISION
MADE IN THE USA!!!!!!!!!! Not assembled in the USA but MADE IN THE USA! We have contracted with Gary Loomis and North Fork Composites to build our blanks. This partnership has led to the most sensitive, lightweight, and fishable blanks we have ever produced. Our Toray Carbon-Fiber blanks are now truly second to none, with the perfect balance of weight, sensitivity, and durability. Our Rod models are some of the most sensitive on the market. The craze in today's market is lighter, lighter, lighter, and more sensitive. At some point you sacrifice breakability for lightweight and sensitivity. Our new blanks far exceed expectations of todays demanding fishermen and women. Often referred to as "high modulus" by other manufacturers we know there are many "high modulus" material some more than others. We try and steer away from that term in our description. The durable yet sensitive aerospace Toray carbon-fiber offers the best of resilience and sensitivity.
WE ARE NOW FEATURING THE FOLLOW PRECISION COMPONENTS THAT INCLUDE:
Sea Guide SS316 Marine Grade Stainless Frames with Zirconium Oxide Rings. Almost all good rings are made from ceramic and some grade of Aluminum Oxide. Our Zirconium Oxide Rings fall between Alconite and Silicone Carbide as far as quaility. Zirconium rings offer similar performance to SiC but are not as brittle. Rings made from this high-end zirconium ceramic offer superb hardness, thermal dissipation, and a low coefficient of friction.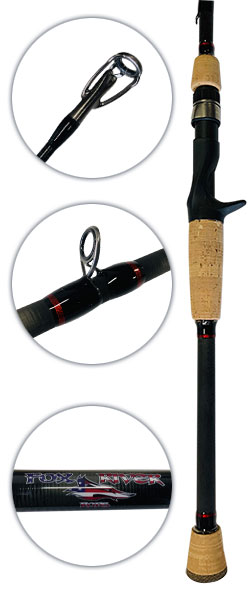 Casting Rods
New double-foot guides for first two starter guided
Reverse deep-drawn frame helps protect the ceramic ring for greater impact resistance
Lighter weight and stronger by changing the guide leg angle
Sloped frame and special rear leg are designed to decrease line tangling
Guide frame uses marine-grade SS316 material, offering superior strength and corrosion resistance
Casting Reel Seat
Surface of reel seat body has smooth semi-gloss colors
Blank-exposed design allows trigger finger to be direct contact with blank for maximum sensitivity to strikes
Ergonomic design with sloped stainless steel hood
Spinning Rods
New High Frame Guide For Spinning Rods
Lighter Weight – Single foot and thinner frame profile result in the XOHG series guide frame is 20% lighter than any other similar guides
Accurate and Long Distance Casting – Compared to conventional guides with similar functions, the height of XOHG frame is more reasonable which is matching most of spinning fishing rods. The characters of 105°forward & tangle-free shape would help in order to reach accuracy and long distance. The sleek and smooth design of the total frame eliminates line tangles from any one point
Higher Strength – The guide legs have an approximate 90°vertical deflection, this angle improvement can significantly increase the frame strength
Marine-grade SS316 material offers superior strength and corrosion resistance
Reversed deep-drawn frame design helps protect the ceramic ring for greater impact resistance.
Spinning Reel Seat
The spinning seat we use from Sea Guide is one of their best sellers. Rod designers and anglers prefer the top-selling spinning seatbecause of its unique shape and dependable quality.
Tapered hood with nut
Ergonomic design is more comfortable
Rod Review 1
Rod Review 3