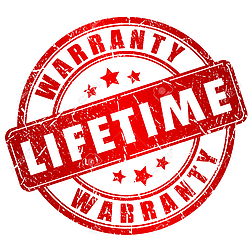 Providing complete confidence, all Fox River Rods have a Limited Lifetime Warranty for the original registered owner. If a Fox River Rod is broken for any reason, the solution is to repair or replace it quickly and without any hassle to get anglers back on the water. We will repair or replace, at no cost, any product damaged due to faulty workmanship or manufacturing defects. The Limited Lifetime Warranty does not cover normal wear and tear, theft, accidents, or abuse; however, for a fee we will swiftly provide product repairs, including rod tips and guides. If the tip becomes damaged we will happily send you a new tip free of charge. If an insert comes out of a guide, with no abuse shown, we will repair or provide a new guide at no cost.
You can purchase a no fault ONE time replacement extended warranty at the time of purchase for $100.
If we determine that a rod broke not due to a defect, and if you did not purchase an extended warranty, rod replacement is $150.
If you are unsatisfied with your rod for any reason we will take it back with no questions asked within the first 60 days.
Please complete the information below to register your rod: Fields marked with an asterisk (*) are required.